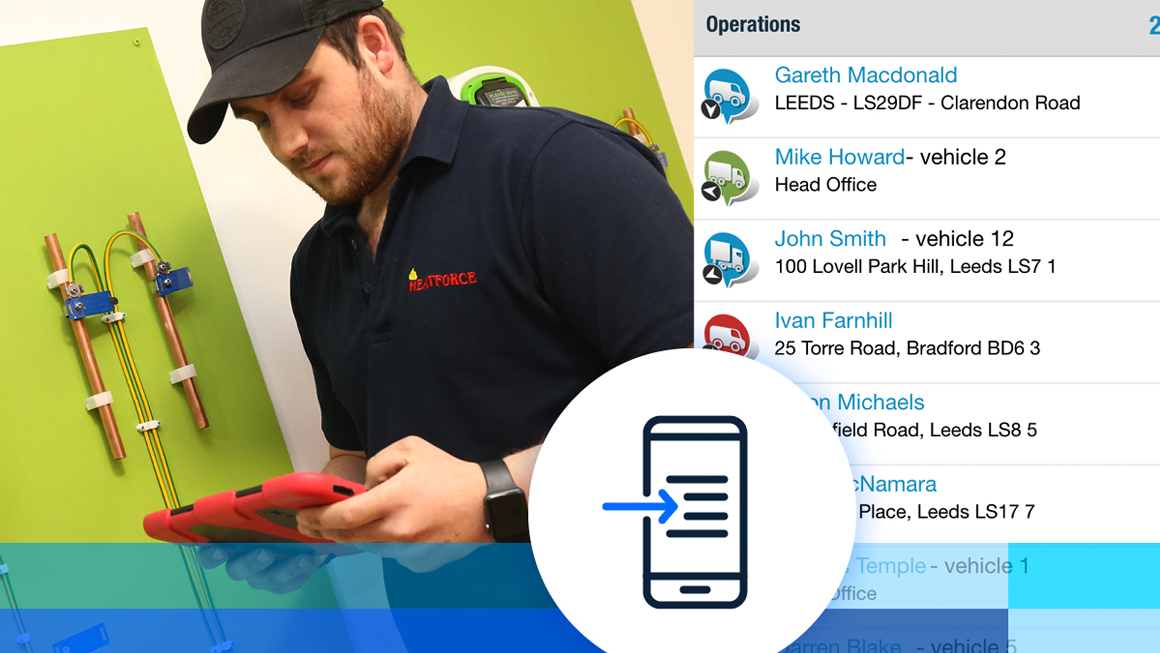 5 Ways Real-time Job Tracking Boosts Efficiency (With Examples)
Back
WITH FIELD SERVICE BUSINESSES, IT'S SURVIVAL OF THE FITTEST. THIS INDUSTRY OPERATES IN A FAST-PACED, HIGHLY COMPETITIVE ENVIRONMENT.
Coupled with new issues — like economic challenges and heightened customer expectations (more on this here) — makes the need for speed and efficiency in operations even more of a must-have to survive and thrive.
And this is where real-time job tracking comes in.
In this blog, we'll look at what exactly real-time job tracking is and how it bolsters efficiency, productivity, and profits, using real-life field service business case studies.
Let's jump to it.
QUICK DEFINITION: WHAT EXACTLY IS REAL-TIME JOB TRACKING?
Put simply, real-time job tracking allows field service businesses to instantly see a current and accurate view of what is happening in the business. For example, it provides up-to-the-minute visibility on the status of ongoing projects and tasks and even employee performance.
With real-time collection and analysis of data, this makes it much easier to communicate and collaborate, plan and forecast, and improve customer experiences.
How do field service businesses do all this?
Thankfully, there are bespoke built software solutions that make real-time job updates and job tracking super easy as the automation does the legwork. Plus, it's easy for everyone in the business to access.
THE STATS: WHY REAL-TIME JOB TRACKING IS A MUST-HAVE
Before we delve into practical examples, let's look at some proof points.
Studies have found significant efficiency and productivity uplifts when businesses use real-time job tracking technology.
Here are just a few standout stats 👇
Companies using real-time job tracking saw a 20% increase in productivity (Aberdeen Group)
Real-time job tracking leads to a 20% reduction in project timelines (Project Management Institute)
63% of construction companies using real-time job tracking reported increased efficiency (Software Advice)
Real-time job tracking leads to a 25% reduction in inventory costs (National Institute of Standards and Technology)
While these are not specific to just field service businesses, it's easy to see how they can relate. So, now, let's look at exactly how it impacts this sector…
HOW REAL-TIME JOB TRACKING BOOSTS FIELD SERVICE PERFORMANCE
One of the main reasons field service businesses love real-time tracking is because it allows engineers to provide updates while on-site.
Thanks to the right tech, engineers can do everything from looking up customer certificates, checking stock, marking a job as complete… And so much more.
This has tons of benefits. Let's look at the top five in more detail 👇
Real-time job tracking benefit #1: Improve visibility of business performance 📈
Firstly, being able to see progress in real-time allows you to see bottlenecks and areas that need improving. This could be anything from a lack of parts or tools, through to communication issues, or a lack of technical knowledge.
With a view of this in real-time, teams can take fast remedial action because there's no longer the lag in communicating issues and inputting this information into systems. Better yet, really good job tracking software will optimise scheduling to prevent these issues from arising in the first place.
Of course, this all adds to better efficiencies and a better customer experience.
🔍 Case study example
In fact, specialist fuel tank services business, JWH Tanks, boosted annual turnover by 35% thanks to better job tracking, which allowed them to make significant cost savings.
"BigChange gives me the tools and information I need when I need them, it provides the mechanism to share time or business-critical data, and it provides the intelligence we need to be accountable to ourselves, our customers and external organisations. This has allowed me to invest time in other areas of the business, such as the website, advertising and customer care, which has undoubtedly contributed to our growth." – Nick Saunders, Operations Manager at J W Hinchliffe Tanks
Read the full case study here.
Real-time job tracking benefit #2: Improved comms and collaboration 🏅
It's no surprise that better visibility of performance supports quicker communication and better coordination of tasks and resources.
Essentially, teams can quickly work together to resolve challenges, provide customer progress reports, and even get invoices and customer feedback surveys out quicker. Improving communications with the customer too.
Plus, with the right tool, you can do deep dive analytics, such as measuring team members' performances as well as high-level business reports and updates on progress for each job. This means things are less likely to leak through the cracks.
The end result? It massively reduces how long it takes to complete jobs and boosts overall efficiency.
🔍 Case study example
Just take a look at Surface repair specialist, Prymo, who doubled business thanks to the complete visibility of the operation 24/7, as well as the ability to produce in-depth business-critical analytics at the touch of a button. This empowered and motivated the entire team.
"By investing in BigChange we have invested in our staff. As a result, we have made people's jobs easier so we have less problems. Less problems means a happier team with a better mindset and this means a more productive workforce." – Jasen Jackiw, Managing Director and founder of Prymo
Read the full case study here.
Real-time job tracking benefit #3: More efficient planning and accurate forecasting 📃
With real-time tracking, businesses can spot potential issues before they cause a problem. For example, some tracking tech can monitor stock, which has proved incredibly popular in today's climate, or respond instantly to instances like sick leave or job overruns.
And if there's a customer emergency, real-time job tracking allows field service businesses to direct that nearest engineer to a job. Optimising fuel and employee time, and helping to meet customer SLAs faster.
When it comes to forecasting, with real-time updates, field service businesses can even see which jobs can be completed and invoiced at certain times.
🔍 Case study example
Perhaps that's why food service equipment provider, NWCE, has saved thousands a year, boosting field workers' productivity, and reduced its environmental impact.
"Since implementing BigChange, we have tripled the size of our employed workforce and, with the competitive edge that BigChange provides, I am confident we will continue to expand and evolve, and BigChange will support us at every step." – Ben Odling, Managing Director at NWCE Food Service Equipment
Read the full case study here.
Real-time job tracking benefit #4: Deliver to customer expectations 🎁
You're probably starting to build a picture of how this all impacts the customer's experience too.
It all leads to quicker resolution of customer issues and the ability to easily update customers if they get in touch.
Here's another example. With real-time job tracking, you can alert customers to an engineer's estimated arrival (some tools even allow them to track the engineer's vehicle so they can see when they are nearby) — this alone can be a huge convenience to customers.
🔍 Case study example
Another point in case is National Heating company, Heatforce, who is leveraging real-time insight to boost customer service. How? Through improved scheduling and faster call-out response, together with instant digital communications backed by detailed proof of work records.
"With BigChange, office efficiency has already increased by 25 percent. In addition, improved job scheduling means less miles are being travelled and productivity is up; especially as engineers don't need to come to the office as often. We've also increased contract win rates thanks to the added capability BigChange gives us and, despite the lockdown challenges of recent months, the system has actually enabled us to increase our profitability." – Jake Maddocks, Director at Heatforce
Read the full case study here.
Real-time job tracking benefit #5: No missed or late invoicing as jobs and financial documents are visibly linked 💰
The obvious thing to mention here is that with all the above, you can complete more jobs first-time, so you can invoice faster as well as schedule more new jobs.
And with a mobile workforce having the ability to sign off a job onsite and for the back-office teams to be notified instantly, this can trigger accurate invoices (detailing the resources used for the job).
In terms of payroll, tools that have built-in timesheets allow field service businesses to correctly pay employees, regardless of whether they missed a time punch. It also means employees can work at different times without needing to be monitored.
The end result? Better morale and maximum productivity. And better cash flow.
🔍 Case study example
It's one of the ways specialist transport and delivery provider, SPL, has seen 40% growth since using job management and job tracking software. How? Because digital workflows have reduced costs and improved communications.
"BigChange provides this! From initial enquiry through the actual delivery process to invoicing and payment, every piece of information is recorded and centrally stored, meaning it is accessible whenever and wherever it's needed. In addition, the CRM has transformed our sales process, so we are winning more business; the intelligent scheduling means we can do more work with the same resource, and the real-time tracking and updates mean we can respond to changes as they occur and keep the customer informed." – Phil Dixon, Commercial Director at SPL
Read the full case study here.
GROW YOUR FIELD SERVICE BUSINESS WITH JOB TRACKING TODAY
These are just a few examples of how real-time job tracking has practically been used to boost efficiency in the workplace.
To sum up, with instant access to job status, real-time updates on progress, and immediate notifications of potential issues, project managers can quickly pivot and keep projects on track.
Plus, with better tracking, field service businesses are better placed to forecast and make more informed decisions on future plans.
Ready to unlock the benefits today? Dive straight in and book a personalised demo of BigChange.