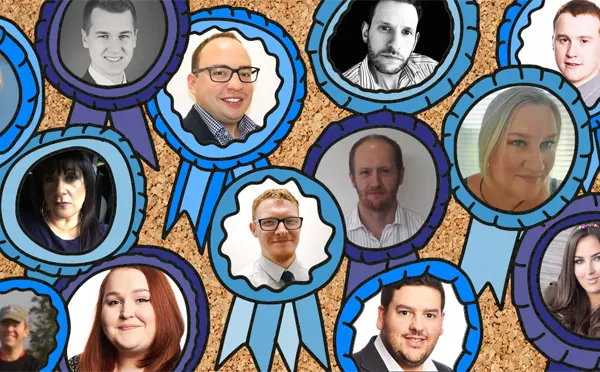 A night to remember
Back
Last night, the whole company came together for the first time in two years. Almost 200 team members gathered in Aspire Leeds, the former site of the Yorkshire Penny Bank, for the BigChange Awards and the Thanksgiving End of Year party.
To be able to come together and enjoy a sit-down dinner and dance the night away, after such a long time, was truly amazing. There really is no substitute for a party for boosting morale and fostering lifelong friendships. The atmosphere was unbelievable, and I so enjoyed seeing my whole team under one roof, especially our colleagues from France.
But last night was more than just a party. It was a chance to recognise and reward outstanding individuals for their hard work, passion, and enthusiasm. It's been a tough old year for most people, as we learn to live in the shadow of Covid, so it's never been more important to thank those who continue to go the extra mile.
I'd like to tell you a little bit about the individuals who won awards last night. These men and women are all team players, all creative thinkers and problem solvers, and we are privileged to have them in our organisation.
Each team boasted a winner, who was voted for by their whole team. In Sales & Network, the winner was Eli Sufrin, a man described as "the backbone of the sales team" who is always on hand to support colleagues. Georgia Murphy picked up the award for the Marketing team. She started at BigChange as a receptionist and has never stopped learning and developing her skills, becoming a highly skilled and intuitive marketer.
Nic Carter-Barnes started as an onboarder and is now managing the Onboarding team in Customer Success. She won her team award for always going above and beyond with customers and our own people too. Chloe Kirk has also risen through the ranks at BigChange, starting in roadcrew to now become the number two in the team. She received the team award because of her technical brilliance and people skills; our customers love her.
The man with a fix for everything is Elliot Trim, who won the awards for the Technical Testing & Support team. He is a real team player with an extraordinary ability for explaining the most complex issues in simple language. In Professional Services, Andy Knight picked up the award for his approach to leadership. I've worked with Andy in the past and we're blessed to have him at BigChange.
Tom Cullinane picked up the award for the Finance team. Tom is never too busy to help out a colleague and is truly committed to BigChange. Jonathan Isaacs, who is a serial winner, picked up the Innovation & Production award for his technical ability, creativity, and reliability.
Aurelie Rodriguez is leading BigChange France. She has proven to be an insightful manager who is well-respected by all her peers. BigChange has a strong foothold in France now, thanks to her approach and tenacity. Jo Godsmark wins the award for the Executive Leadership Team. She has truly transformed the company since joining in 2019. She combines a strategic mind with the ability to execute projects and maintain momentum.
The team of the year in 2021 is Roadcrew, our incredible front-line customer support team. This team is truly the face of our business and has delivered exceptional levels of customer service this year. It was no surprise to anyone that Andy Davenport won the Employee of the Year award again in 2021. His passion for supporting the business, his wide range of skills, and his ability to get the job done is an inspiration to us all. He is so committed to this company, even coming back to work (too) early after an appendectomy.
The CEO Award has gone to George Dibb. George joined us before lockdown but, once the pandemic took hold, we were forced to reduce the size of the sales development team. We asked him to go to Roadcrew and learn the product for 18 months before returning to sales, and he not only excelled in customer service, he has now been really successful back in his sales role: a real overachiever. And finally, my Chairman's Award, which goes to Andrew Scully, my right hand man, and my hard-working and brilliant wife Amanda Port, who has always treated BigChange like our fifth child.
Many congratulations to all of you. These awards are very well deserved. Thank you for all you've done for this company and your teams. I hope you enjoyed the party!