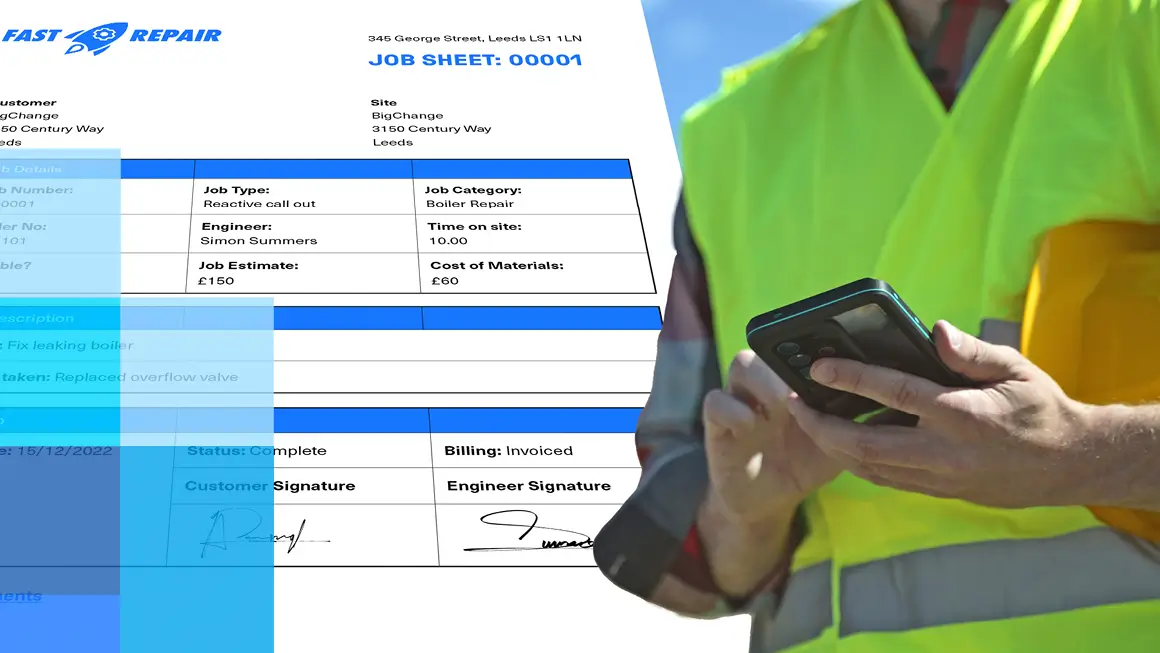 Benefits of digital job cards (+ free field service job card template)
Back
Job cards play an essential role in day-to-day field service management, covering all the essential job information.
Why?
Because without a job sheet to hand, work orders might be delayed, essential information is missed, and miscommunication between engineers and back office staff is rife.
This is where digitising your job sheets comes in.
By using digital solutions like job management software, you can create digital job cards at the click of a button, and ultimately improve the productivity of the whole team.
But what is a digital job card? What are the benefits? We'll cover this below. Plus, you'll get a free copy of a best practice field service job card template.
Let's get into it. 👇
What is a digital job card? (For field services)
Traditionally, job cards are paper-based. But like with any paper-based process, it's prone to issues and human-error. On the other hand, a digital job card can be viewed, edited, and updated in real-time by any team member – including engineers and back-office staff. And you can even send a copy, instantly, to the customer too.
What's more, you can access them on a mobile device. Mobile job sheets are game changers for your field based team. Engineers can quickly take photos, take signatures, provide documents to customers and more.
How do digital job sheets work?
Essentially, digital job sheets replace your paper-based job cards with a digital version – usually stored in the cloud via a job management software platform.
It ensures all work is completed without any missing sheets or unreadable handwriting. It also means that any errors or problems in work can be acted on straight away.
A system (like BigChange) would take your existing job sheet/cards and turn them into documents that are created and accessed online. And as the job is being completed, back office workers and customers are able to see real-time updates.
❌You might think sticking to paper-based job sheets is fine for now, but be wary of these key challenges.
Challenges of using paper-based job cards
To put it bluntly, paper-based job cards are an accident waiting to happen. Notorious for sporting scribbled-out writing, oil marks, and spelling mistakes, they can be widely inconsistent and miss vital information.
Key job details might be misread due to poor handwriting. Not to mention presenting an unprofessional look and feel for customers
All of this adds up to a lot of headaches for back office workers.
🔖Related: Going paperless: What does it really mean for field service management?
With this in mind, what does a good job card look like?
What does a good digital job card template look like?
A good job sheet process gathers all the information (in one place) accurately, consistently, and in real-time.
A typical digital or mobile job sheet includes:
Name of the job
Company logo
Date
Customer details
Location of the job
Details of the job (images, description, notes, serial numbers)
Quote/estimate for the job
Paid/unpaid job
Cost of materials used
Attachments such as images and documents
Engineer and client sign-off
In fact, it might look a little something like this job sheet template:
🔽You can download a job card PDF version of our job sheet template here.
Now that you know what one looks like, let's get into the key benefits of digital job cards.
Benefits of digitising job cards
Digital job cards have plenty of benefits. Here are a few of the most important:
Real-time information: Job information is sent to the back-office in real-time, so they have true visibility of progress against the plan.
Cloud-based: Create new jobs in the field, enabling you to respond quickly to customer requirements as they arise. You can even see on-site information in real-time.
Photo and signature capture: Easily capture proof of work, and capture signatures before, during, and after work.
Documents on demand: Mobile workers can access documents, images, and diagrams in the field.
Win back more time: Save a huge chunk of admin time by entering information digitally rather than writing it all up.
Reduce risk: Having a digital job card system limits risks, such as losing handwritten notes, and ensures all information is captured first time.
Mobile app: App users can view the history of jobs against any customer, with valuable insight at the tap of a screen. You can also take photos, scan barcodes, and more.
Reduce waste: Automating manual processes like job cards has a positive impact on reducing waste and saving on paper.
Maintain high standards: Ensure consistent service standards and protect your brand image with branded job cards. Plus, you can bill customers within minutes.
In short, digital job cards are immediately available to the customer and act as a single source of truth if there are any queries regarding the job. And because they are permanently held on your CRM, they are always available as a key source of information you can search through any time. You can even attach an invoice to it before issuing it to the customer.
In fact, one thing our clients love about digital job cards is that they help ensure engineers have all the information they need for each and every job:
"The engineers know in advance what their day looks like and they know they have the information they need to deal with each and every job. With BigChange, even the back-office staff know they have the tools they need to get the job done from scheduling to keeping the customers informed and managing cash flow."
Adam Redgwick, Sales Director, Warmaway
Digitise job cards with BigChange
We hope this blog has convinced you of all the ways digital job cards will benefit your business.
You can do all this and more with BigChange. The BigChange system automatically generates standard job cards, featuring data captured in the field.
You can choose the information that will be displayed on the job cards and even personalise with your company logo, custom fields and branding.
And even if you have an existing job card template, you can simply import it directly into BigChange's job sheet software. Alternatively, BigChange offers a custom design service.
Replace your traditional paper job sheets with digital versions