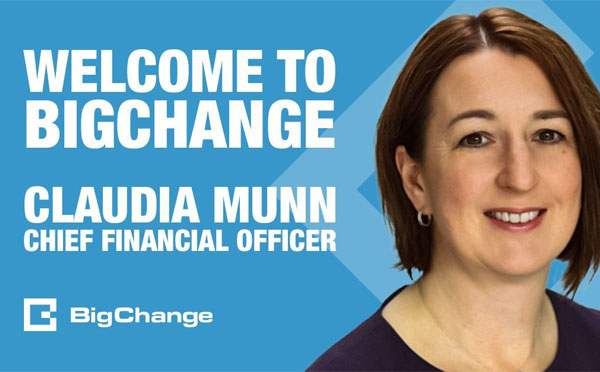 BigChange appoints Claudia Munn as CFO
Back
New finance chief has extensive experience working in both private equity backed scaleup businesses and large corporates
BigChange, the revolutionary mobile workforce management platform, today announced the appointment of Claudia Munn as Chief Financial Officer. Claudia brings a wealth of international financial and commercial experience to her role at BigChange, where she will be responsible for global financial strategy and its execution.
Claudia joins BigChange from venture-backed training provider Avado. Prior to that she has held CFO and Finance Director roles at CitNOW, Volvo and Tesla. She has also worked in senior finance roles within Honda and Johnson & Johnson.
Claudia's appointment at BigChange comes at a crucial phase in its growth journey. In February, the company secured a £75 million investment from Great Hill Partners and has hired 45 people in the last three months to support expansion into new sectors and territories.
Claudia Munn comments:
BigChange is expanding rapidly, and it is exciting to be part of that journey. This is a visionary, forward-thinking company with an incredible product, great people and a huge opportunity. I'm thrilled to be part of driving the next phase of growth at BigChange."
Richard Warley, BigChange CEO, comments:
"I am delighted to welcome Claudia to BigChange. Her commercial acumen, experience and strategic approach will be hugely valuable to guide our growth ambitions in the UK and internationally."