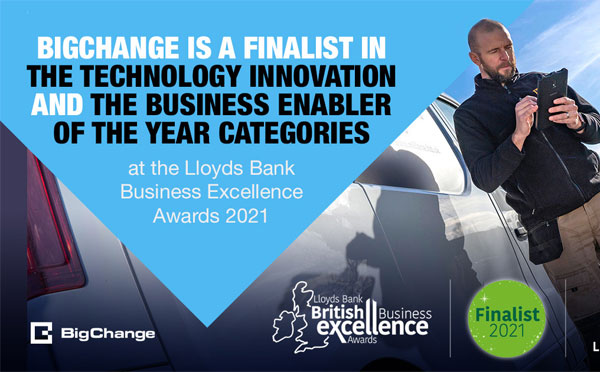 BigChange named a finalist in two categories at the Lloyds Bank Business Excellence Awards 2021
Back
BigChange, the revolutionary mobile workforce management platform, has beaten off stiff competition to become a finalist in two categories in the Lloyds Bank Business Excellence Awards 2021.
The Lloyds Bank British Business Excellence Awards (BBEA) celebrates and showcases the resilience, innovation and creativity of British businesses. BigChange is a finalist in The Technology Innovation and The Business Enabler of the Year awards, which recognise the contribution of digital transformation to drive growth and competitive advantage.
Almost 1,700 businesses worldwide use BigChange software to support sustainable growth, streamline operations and enhance customer experiences. The company tripled turnover between 2017 and 2020 as small and medium-sized companies in service sectors including construction, facilities management and waste management moved from legacy systems and laborious paper processes to more advanced, cloud-based digital technologies.
BigChange's global potential was recognised earlier this year when it secured the backing of private equity firm Great Hill Partners to fund further innovation and international expansion.
Richard Warley, BigChange CEO, said:
"BigChange has transformed mobile workforce management and the sectors in which it operates. We are delighted that our contribution to digital transformation, business growth and operational excellence has seen us named among the top businesses in Britain in these very prestigious national business awards."
Event Director of The Lloyds Bank British Business Excellence Awards (BBEA), Sarah Austin said:
"Our awards are a national platform to showcase, celebrate and honour the very best of British business. Becoming a finalist is a very impressive accolade; all our finalists stood out as truly creative and innovative during a turbulent year for British businesses; they have proven their companies to be resilient, entrepreneurial and really are best of class."
All finalists will present to the judging panel in September, then the winners will be announced at the awards ceremony in November. Tickets to attend the ceremony are available to purchase through the website: https://britishbusinessexcellenceawards.co.uk