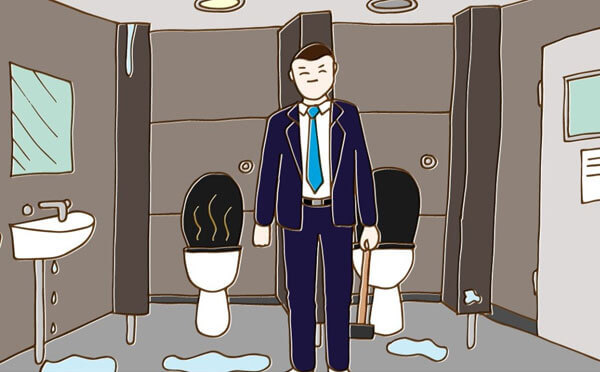 CEO's Blog – A blog about the bog
Back
As an entrepreneur, you work tirelessly to create a business that wows your customers, boosts your colleagues and supports your partners.
I'm a perfectionist, and I'm always dreaming up new ways to improve our offering, and make life even better for the team.
But sometimes, there are things outside your control that interfere with your ability to be at your best.
Here at BigChange, I've done all I can to create a wonderful place to work. We have state-of-the-art coffee machines, an illustrator has created the artwork for our walls, we sit on Herman Miller chairs, and we have a chill-out space that everyone loves. We have introduced a 4.5-day work week for the whole team. We run motivational Mondays every month, bringing in top inspirational speakers, and put on loads of events each year to keep morale high.
But there is one thing that undermines all my efforts to have the perfect workplace: the loos.
We rent our offices and, under the terms of our contract, the landlord is responsible for maintaining certain common areas used by multiple tenants. The toilets fall under the landlord's jurisdiction.
They are a disgrace.
These toilets haven't been updated in 20 years. The tiling is old and worn. The sink leaks all over the floor, creating a major hazard. The cubicles are flimsy. The toilets themselves are cheap and nasty. The loo seats are always breaking, leaving a loo out of order – not a good thing when there are only two, plus a disabled toilet, and hundreds of people need to share the facility.
We have been in our new premises for a year and a half. I've lost count of the complaints lodged and tickets raised. All our pleas have gone unheard. This is despite the fact we pay a hefty service charge, which is supposed to go towards maintenance.
I believe that your toilets are as important – if not more important – than your office. They contribute to the overall impression of your company. Do you have a bright clean office? Great. Do you have clean and inviting loos? Even better. There is nothing worse than being subjected to a miserable WC.
I feel ashamed when visitors come and ask to use the facilities. They leave our clean and inviting office and have to step into a wet, dank nightmare.
The irony is that our landlord is a company called The Canal & River Trust. You would think that water and sewage would be a priority. This is the same company that owns the Toddbrook Reservoir in Whaley Bridge, Derbyshire. The dam nearly collapsed last year and nearby residents were all evacuated. I guess we should count ourselves lucky we only have a leaky sink to contend with.
This week I was at a roundtable event where I met a man who is as passionate about toilets as I am. Chris Brown is the managing director of Aaztec Cubicles, which creates the most beautiful bathrooms on behalf of organisations across the UK – from swimming baths to government buildings. He kindly listened while I vented my frustrations about our toilet problem.
The worst thing about all this is: I shouldn't be obsessing about the state of the office loos. I should be spending my time on more worthwhile issues. Fighting with my landlord is a waste of my time, and distracts me from my real job: growing and improving my business. So I'm going to try and put it out of my mind, for now. Or perhaps I'll grab a sledgehammer and smash the toilette up.
Just kidding…