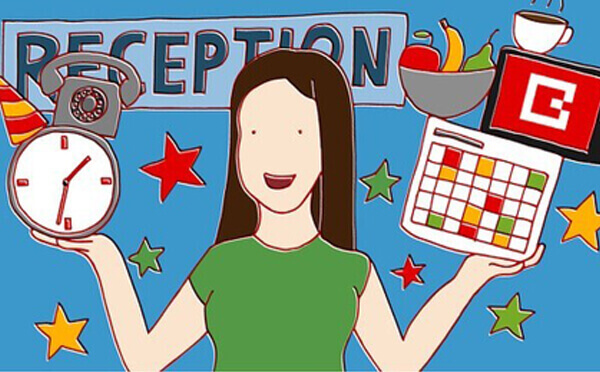 CEO's Blog – A good receptionist is worth their weight in gold
Back
I think it's important to recognise the people that have helped BigChange become a truly great company.
Those who are making this a great place to work, great at customer service; and great with suppliers. Our new receptionist has had a profound impact on BigChange. So, this blog is about Georgia.
I first met Georgia last year, when we had our Christmas party at Thorpe Park, just down the road from our offices. She was working there in a sales role, and helped to manage our booking. She said that she was on the lookout for a big change in her career, so we stayed in touch. When a front of house role opened up, she applied.
Georgia has been with us just three months but she's made some incredible changes that are making life better for all of us.
We have six customer meeting rooms here and, every day, most are full. Georgia sends an email link from our JobWatch system to everyone at the company each day, letting us know which prospects and customers are coming in, when, and in what room. I can just pop in and greet our customer or prospective client. Someone from customer service can go say hello too. It makes people feel really welcome and valued.
She has brought in afternoon "pick-me-ups", and always keeps the office well stocked with healthy snacks (as well as a drawer of Mars bars) to give us all a little boost if we are starting to flag after lunch.
Regarding managing our facilities we try to use our customers for all the work we can, from security services to electrical jobs and plumbing. All of these jobs are managed by Georgia, using our JobWatch system. She knows everyone, and the whole thing runs like clockwork.
Georgia has taken on the role of events coordinator, organising a Macmillan coffee morning at the office, and taking charge of the Christmas party, as well as our Secret Santa and Christmas jumper competition. Having someone who wants to take ownership of the social calendar, and is talented at organising fun and inclusive events, has been amazing for morale.
I never want to force my team to do things like Secret Santa or charity bake-offs. It's important that these initiatives are decided by the team and organised by them too. Georgia knows the things that her colleagues love to do, and takes the time to make them happen.
I can't tell you how important the receptionist role is at a growing company. But I shouldn't call Georgia a receptionist, really. She's much more than that. She's a facilities manager, an events organiser, the face of the company, and the first point of contact many customers have with BigChange. She is invaluable.
I know that I employ a first-rate team here. But when people visit the office or call in, their first interaction is usually with Georgia. The fact that she makes everyone feel welcome, greeting everyone in that brilliant Scouse accent, is the icing on the cake.

Martin Port
Founder & CEO