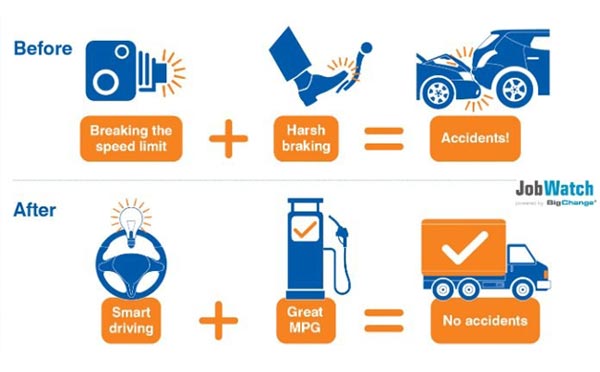 CEO's Blog – Average work related accident cost per crash – £3,500
Back
Work-related road accidents are the biggest cause of work-related accidental death.
Approximately 1000 people are killed annually compared to approximately 250 fatalities due to accidents notified annually under the Reporting of Injuries Diseases & Dangerous Occurrences Regulations (RIDDOR).
Employers have duties under Health and Safety law to assess driver competence. Even though employees who drive will have passed the driving test, this on its own is not enough. Employers should still assess individuals to determine competence, attitudes and risks etc. (Source RoSPA)
Managing a Driving for Work Policy is a legal requirement under Health and Safety Legislation & Road traffic law. Management and employees can both be prosecuted for road traffic crashes involving work-related journeys, even when drivers are using their own vehicles.
A survey of 500 business decision makers reveals that 57% of businesses are unaware that they could be subject to a public order if found guilty of a fatal accident at work. This penalty is so significant that it should ensure that Health and Safety is at the heart of business decision making. Particularly when strategic decisions about investment in training or providing new equipment are being made versus promotional spend.
When asked about the implications of breaching the Act-a publicity order or a fine of 10% of turnover, 59% of businesses regarded the former as the greater threat.
In launching the findings of the research CIEH Chief Executive, Graham Jukes said: "This poll research highlights the lack of awareness in most businesses of the effect that an accident at work may have on a firm's ability to trade in the future. The HSE have just published their new strategy and business awareness of their responsibilities towards ensuring effective health and safety provision is at its heart. "Business leaders must act proportionately but if they fail to properly resource health and safety and something goes wrong then it will not just be the victim that suffers but the business as a whole through the link to the corporate manslaughter and homicide Act." (Source CIEH)
A risk management policy must be written when a company has five or more employees. Business mileage is any mileage done on the behalf of the business other than commuting, unless they are travelling to a location that is not their usual place of work then it still comes under Health and Safety Law. (Source DfT & HSE).
Average fleet accident rate 65%, Average bent metal cost – £700 (per vehicle)Average hidden costs – £700 x 4 (£2800) – (between 4-36 times bent metal cost . Average overall cost per crash – £3500.
Driver training is a self-funding investment which can be funded from the savings of just fuel alone.
Some of the other benefits include:-
Reduced accident losses.

More effective vehicle use

Lower insurance premiums

Lower transport costs

Improved public image

Higher staff morale

Defence against criminal prosecutions and civil litigations

Martin Port
Founder & CEO