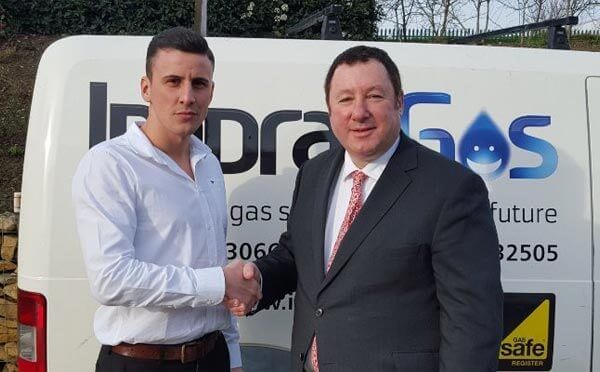 CEO's Blog – BBC Apprentice Winner 2015 Joseph Valente adopts BigChange technology to accelerate growth
Back
Winner of The Apprentice 2015 Joseph Valente has chosen to roll out BigChange's JobWatch mobile workforce management software as part of his plans to revolutionise the plumbing market with his business partner Lord Sugar.
Joseph and his new business partner Lord Sugar looked at a number of software companies and after a rigorous tender process chose BigChange Apps' JobWatch system.
Joseph is focused on growing his business and wanted a system that could literally manage all aspects of work and scale perfectly with Impra-gas. The JobWatch system allows customers to book work which is dynamically scheduled to the correct engineer on a mobile app with the correct workflow including health and safety, compliance and step by step job instructions.
Customers enjoy a great user experience with live updates confirming Estimated Time of Arrival and electronic job cards including certificates relating to plumbing and heating work. Impra-gas are dedicated to providing fantastic customer service.
Joseph said "this is the beginning of our journey to become a household name in this highly competitive market, with BigChange's support and help we are able to tap into the latest technology that is normally only affordable to large corporations."
Martin Port said "this is why we started BigChange to give companies like Impra Gas the tools to compete at the highest level and win and wow their customers with a great user experience. We'll be looking after Joseph like all our customers with constant development and support"

Martin Port
Founder & CEO