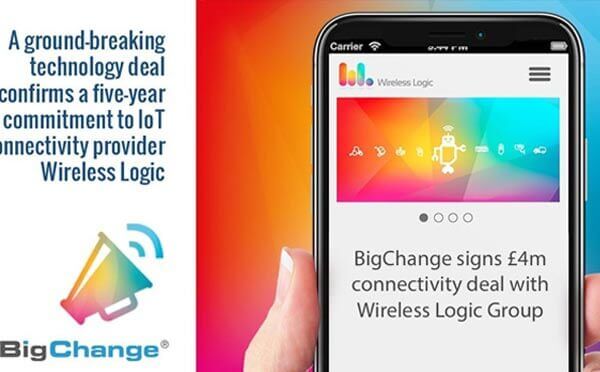 CEO's Blog – BigChange signs £4m connectivity deal with Wireless Logic Group
Back
A ground-breaking technology deal has seen Leeds-based BigChange confirm a five-year commitment to IoT connectivity provider Wireless Logic Group worth initially in excess of £1.5m with a projected value towards £4m by 2020.
BigChange provides a paperless way to plan, manage, schedule and track any mobile workforce with a seamless solution for managing the entire operation from quote all the way through to invoice. As a 5-in-one Mobile Workforce Management platform, it combines a customer booking app, cloud-based back-office CRM and job scheduling, a rich mobile app for the driver or engineer combined with real-time vehicle tracking – easy and intuitive to use, customise and implement.
A fundamental component to the BigChange platform is its ability to communicate in real-time, sending and receiving mission-critical data securely. This is achieved through Wireless Logic's private infrastructure overlay across the cellular networks, delivering a tailored 3G/4G solution for BigChange mobile devices UK-wide. The deal signed between both organisations will see a shared commitment to roll out an additional 40,000 subscriptions with an expected turnover in excess of £40m by 2020. Today, clients include HSS Tool Hire, Silentnight Beds, Morrison Utility Services and Sheffield City Council.
Commenting on behalf of BigChange Apps, Martin Port – Founder and CEO said: "As a relatively fledgling player in the mobile workforce solutions market, our growth has been dramatic. Working with partners like Wireless Logic Group give us the confidence to deliver an unrivalled end-to-end connected platform with built-in resilience and value. In demonstrating our commitment to them, we look to the future with confidence as we seek out further UK opportunities and develop more openings overseas, particularly within the lucrative US-based market."
Speaking on behalf of Wireless Logic Group, Oliver Tucker – Co-founder and Group CEO said: "Our partnership with Martin and his team has followed on from working alongside him at his previous organisation – Masternaut. In just five years, our journey with BigChange has seen the full implementation of the Wireless Logic connectivity platform with double digit growth year on year. BigChange's approach to the market is to fill a much-needed gap for flexible and rapid deployment mobile workforce management tools. Our experience in tailoring connectivity and infrastructure solutions is helping the BigChange team to develop highly competitive connected eco-systems with innovation and customer focus at the heart. This is significant business for us at Wireless Logic and we are excited about the huge potential as the application is rolled out to further countries. Already we are trialing a number of global cellular solutions which will form part of a one-stop secure connectivity platform for BigChange's customer base."
About Wireless Logic Group
Europe's leading independent M2M (Machine to Machine) and IoT (Internet of Things) platform provider, Wireless Logic Group works with thousands of application providers, systems integrators and enterprises delivering a portfolio of services including tailored management platforms, private network infrastructure and specialist mobile, satellite, fixed line and low power wireless area network (LPWAN) connectivity. All services are supported by a team of multi-disciplined personnel including technology development, consultancy and client management.
Founded in 1999 by CEO Oliver Tucker and CSO Philip Cole, Wireless Logic is backed by CVC Capital Partners (www.cvc.com). The organisation's European headquarters are located in Hurley, Berkshire UK with country offices in Denmark, France, Germany and Spain.
For more information, visit www.wirelesslogic.com
About BigChange
BigChange by name, BigChange by nature! BigChange is an established force in mobile workforce management, offering a system that transforms the way companies manage their mobile operations. JobWatch from BigChange is the paperless way to plan, manage, schedule and track any mobile workforce. This powerful all-in-one Mobile Workforce Management platform combines back office software, mobile apps, fleet management and real-time vehicle tracking in one simple to use system. Using JobWatch, customers can manage their entire operation, from quote all the way through to invoice.
For more information, visit www.bigchange.com

Martin Port
Founder & CEO