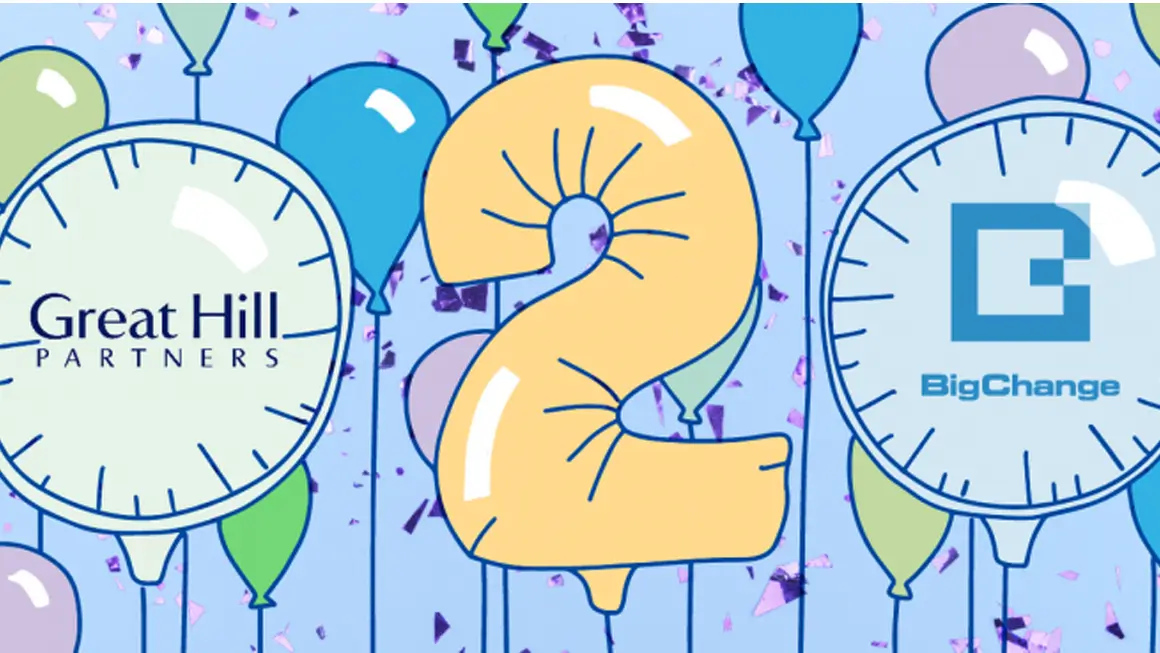 Happy dealiversary to us!
Back
On 4th February, we will celebrate two years of partnership with our brilliant owner/investor, Great Hill Partners. That's two incredible years of growth, innovation and success.
When I look back and see all that we have achieved together, I'm blown away.
Like many entrepreneurs, I had some preconceptions about private equity. I'd heard the horror stories: founders losing control and companies being pulled in the wrong direction. My experience couldn't have been more different. We raised £75m to supercharge growth, valuing BigChange at £100m. Great Hill have always operated with integrity, with the best interests of the business at heart, and their support has surpassed all my expectations.
The deal has been a gamechanger for me, my colleagues, our customers, and our future.
Last year, I posted about our experience with Great Hill, one year in. Since then, we have continued to thrive. I want to thank Drew Loucks, Chris Busby, Greg Stewart, Ryan O'Malley, and Pablo Ramirez for all their support. I also want to thank our exceptional CEO Richard Warley, who was introduced to me by Great Hill. He's added such value to the business and his leadership has been transformative as we enter this new chapter of growth.
Great Hill's support over the past 12 months has been invaluable in two key areas: marketing and technology. Suaad Sait at GHP has been our point man on marketing. His experience helping fast-growth companies like Rackspace to grow has been such an eye-opener. He has helped create over $15 billion in value over the course of his three-decade career. We are extremely lucky to have him on board.
On the technology side, our non-executive director Mike Profit has brought a wealth of experience and advice. He's been driving growth at US-headquartered start-ups and blue-chip companies for more than 25 years.
Over the past two years, BigChange has doubled in size. That recurring revenue growth has been accompanied with an increase in headcount to support that growth. Great Hill recognised that we had an opportunity to grow faster, and provided extra investment to support that growth. As we look to the future, we are well-capitalised and every team has the firepower it needs to grow and succeed.
Great Hill is opening an office in the UK as we speak. Drew and his family have relocated permanently. This is an incredible development for fast-growth firms across Europe. Every midmarket entrepreneur that wants to go places should speak to Great Hill.
"Great Hill has been investing in Europe over the last 20 years," Drew tells me. "Given the amount of strong entrepreneurs like Martin, we felt that now was the time to put a more concerted effort to build more of those relationships."
It will be exciting to watch Great Hill add value to even more businesses as they grow their presence here.
Happy dealiversary to BigChange and Great Hill. Here's to many more years of success.