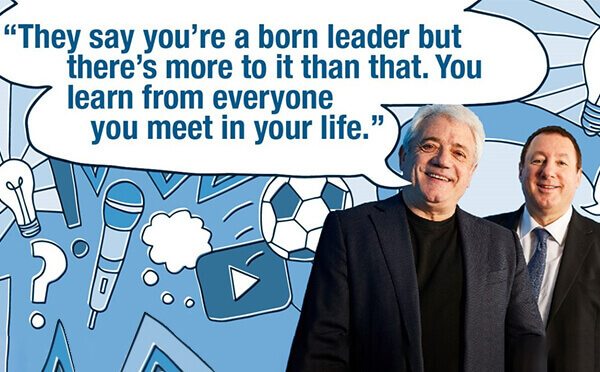 How to lead like Kevin Keegan
Back
"They say you're a born leader but there's more to it than that. You learn from everyone you meet in your life."
These wise words were recently shared with me by football legend Kevin Keegan. I am delighted to announce that he has become my mentor, and will be coaching me as part of his leadership programme.
Kevin, who became a BigChange ambassador last year, has a wealth of leadership knowledge: everything from motivating a team to inspiring extraordinary endeavours. When we sat down for our first coaching session, he explained the principles that have helped him become one of football's all-time greats.
This gave me an idea. Why not capture some of these sessions so that we could share his insights with other leaders? This is how the Kevin Keegan Secrets of Leadership series was born. From September, I'll share clips from our discussions, as he talks about the lessons he's learned throughout his illustrious career. What Kevin doesn't know about leadership isn't worth knowing.
Next week, Kevin is talking about what makes a great leader. Natural aptitude is one thing, he says, but every leader must keep learning and developing if they are to reach their full potential.
"I learned this from my father at a young age," he says. "He would say, 'Son, go and learn from him now' and would send me to work at a market stall in Doncaster." You learn so much from environments where you deal with the general public, he explained.
My father also sent me to work at a market stall when I was young. It gives you an incredible foundation in sales, and also teaches soft skills like empathy. So many great leaders have started their careers from a market stall, from Matalan founder John Hargreaves to Michael Marks, who started Marks & Spencer.
Kevin says that he has always observed other leaders – both good and bad – in order to adapt his leadership style over the years. The big influences in his life were Ron Ashman, his first manager at Scunthorpe United. "His strength was communication," he says. "Everyone knew where they stood. But he wasn't great when you lost, so I learned not to be like that. " Sir Alf Ramsay, the England manager who won the World Cup in 1966, also helped shape Kevin's leadership style. "He had this air about him," Kevin says. "Confidence without being arrogant. You felt so comfortable following him."
Kevin got me thinking about the great leaders who have inspired me throughout the course of my career. People like Michael Dell, the technology entrepreneur, who is a great champion of intrapreneurship within Dell. He is one of the reasons I work so hard to encourage my BigChange colleagues to bring new ideas into the business and give them autonomy on projects.
Bill Shankly is another one of Kevin's heroes. "He would say, 'You are here for those people out there'. It made you think about being part of the community. Everyone comes into your life for a reason."
To hear more from Kevin, take a look next week at the BigChange visitor website www.bigchange.com and please don't forget to share a comment.