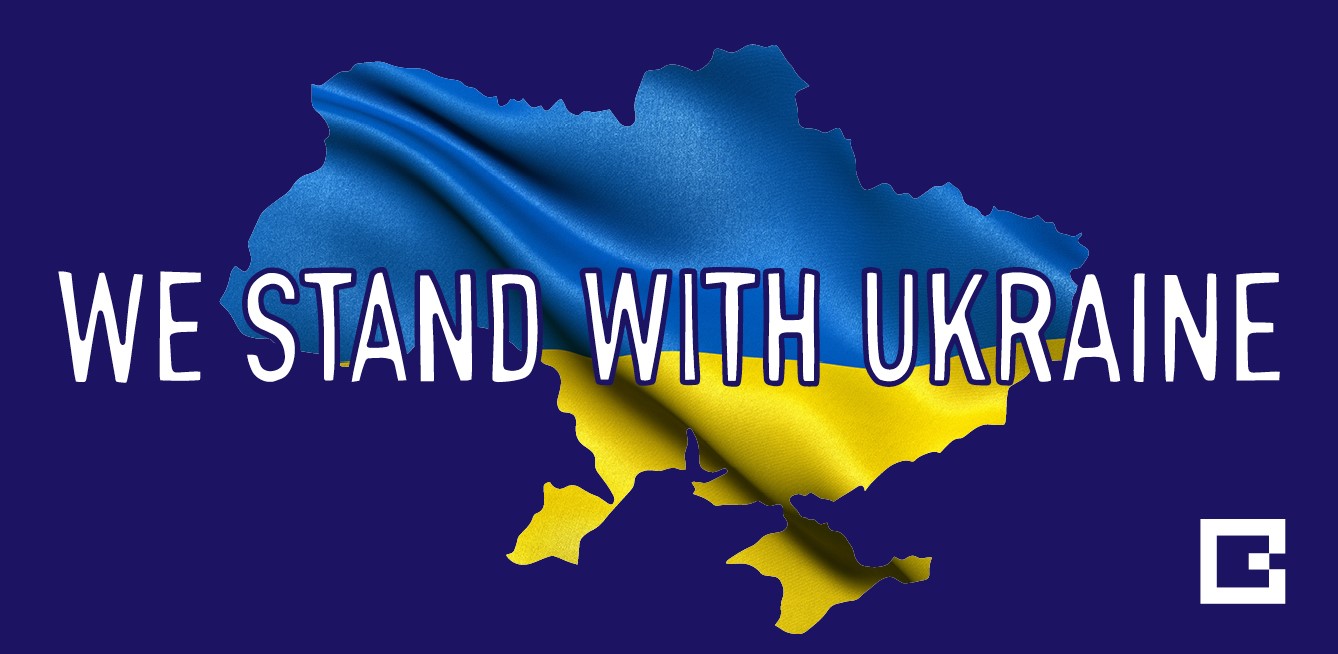 I stand with my colleagues in Ukraine
Back
Like many of you, I have spent the past week glued to the news, desperately trying to make sense of what is happening to the people of Ukraine. For all of us at BigChange, the conflict feels even more personal because eight of our colleagues are Ukrainian nationals, based in Kyiv. These people are part of the BigChange family. We have laughed together, met one another's families, and celebrated milestones together at BigChange events.
We have all been scrambling to try and support our people out there. "Do you need money?" was the first question. "What can we do to help your community?" was the second. Our colleagues asked for very little, although they were giving all they had to help those in need. We have sent a truckload of humanitarian aid to Ukraine now through Goods for Good project, and we hope these items will get to the people who need it most. Our CSR team has called an urgent meeting to discuss further options for support. Even my son, Joseph, is trying to do his bit, selling t-shirts to raise money for Ukraine.
But one way I hope to support our friends in Ukraine is by giving them a voice, a platform from which to express their fears, their defiance, their unity, and their resilience in the face of absolute tyranny.
I managed to speak to Liubov, who works in our software testing team, yesterday. These are her words.
"I've lived in Kyiv for 15 years. When I started reading reports that Russia could potentially invade, I didn't believe them. It just didn't make sense in the 21st Century. So when the war began, and I read that Putin had launched an attack, I was in total shock.
"We gave ourselves two hours to pack all the essentials and take our parents to the west of the Ukraine, where it is safer. We didn't take much, only our documents – our passports – some money and some food, because we didn't know whether we might struggle to get supplies later. We packed a few clothes but that was a low priority.
"It took us 17 hours to complete the six-hour drive to the west. Fighter jets were flying overhead. I have never been more frightened. We saw Ukrainian military heading for the border. That made everything real.
"I left Kyiv, but most Ukrainians are more courageous than me. They will stay and protect their homes, and fight back, if they must. Men and women are determined to fight to protect our country. We will not let our cities and villages fall into Russian hands. In Ukraine, people are often divided on issues but right now, we are as one, organised and moving in a single direction, joining forces to save our homes.
"I have been spending most of my time trying to find safe places for friends and family, so I'm always on my phone. People are so kind, giving up their homes for free, bringing in strangers and saying, 'Don't worry. I'll support you'. There are some shelters around, so I'm also trying to share all that information with the people who need it.
"For the first four days, I couldn't stop shaking but now I am calm. I must keep busy to distract myself from the news.
"I ask that the people and governments of Europe help us any way they can. Our Ukrainian army was not prepared for invasion, so we don't have ammunition, equipment and weapons, so the first thing we need desperately is to supply our army and protect our soldiers. Our second issue is that is is very dangerous to try and get goods and food to the east of Ukraine, so we need help ensuring that people have emergency supplies. We also need everyone to ban Russia from every possible communication with Europe. This invasion must not be allowed to take place without consequences. We are an independent country. Russian citizens should be made to understand that their President is making terror for other nations, and that he does not deserve their support. They must take to the streets in protest or impeach him. They must make him understand: this is the end of your regime.
"I still cannot believe that we are at war. I was talking to my husband about this yesterday. I said, 'One day we will tell people we lived through a war." I'm for peace and resolving conflict through diplomatic means. I believe in democracy.
"I miss my home and I hope I will have the opportunity to return soon. Over the years, I have been offered many chances to emigrate to the US or to Europe, but I decided to stay because I really love this country. I hope that Putin will pull back his army but if he does not, he will still not be successful. We will protect our country."
To Liubov and her team, I say this: the whole company is behind you, and our prayers are with you.