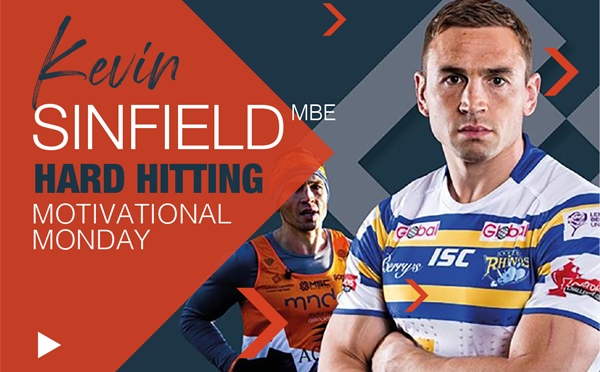 Kevin Sinfield MBE tackles leadership and Motor Neurone Disease
Back
February 2021 – Kevin Sinfield MBE revealed the caring heart inside a man of iron, as he told February's Motivational Monday that raising more than £2.5m for Motor Neurone Disease (MND) was a bigger achievement than leading Leeds Rhinos to seven Super League championships.

One of the greatest modern Rugby League players, Kevin ran seven sub-four-hour marathons in seven days last December to support his friend and former team-mate Rob Burrow, 38, who announced his MND diagnosis in 2019.
Now Leeds Rhinos' Director of Rugby, Kevin said his "greatest achievement will always be the seven in seven". In addition to speaking about the widespread support of Rob, Kevin discussed the need for collective effort and the charity of fast-acting donors who helped him meet the fundraising goals.
Kevin gave a behind-the-scenes view of the resilience it took to complete the seven in seven, shared personal stories of his journey with Rob and offered a motivational challenge for viewers to complete their own, achievable, seven in seven.
Kevin was joined by Dr Agam Jung, Director of the Leeds Regional MND Care Centre, who gave a presentation on how the centre and MND care have developed over the last decade.
This month's charity partner was The Robert Sinclair Davidson Foundation, which offers financial support to young couples and families affected by life-threatening and terminal illnesses. Through its efforts, BigChange has raised over £1,500 for the charity.
In March BigChange will welcome paralympian Hannah Cockroft MBE, DL – an incredible athlete, multiple sprint world-record holder and five-time Paralympic champion. Lucy will be joined by PhysCap, a Leeds-based charity that improves the quality of life of children suffering from severe physical disabilities.
You can kindly donate to PhysCap here.
You can join our event here on Monday, March the 1st at 4pm: https://webinar.ringcentral.com/webinar/register/6516128841657/WN_OOIhvNk5SMidMxR7RVBHWA
We hope to see you then.