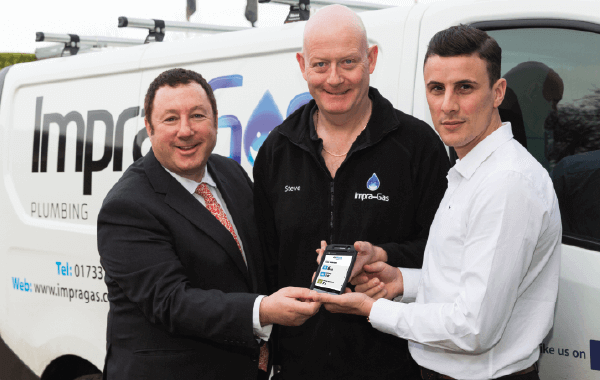 Leading utilities players roll out BigChange technology to 5000 service engineers
Back
 Mobile Workforce Management specialist BigChange has won contracts to supply its three-in-one JobWatch platform to over 5,000 mobile technicians at leading players across the Utilities Sector. The orders come from companies operating in the Public & Private sector involved in Water, Gas & Electric including the installation of 2nd generation Smart Metering.
BigChange's three-in-one solution is delivering a paperless revolution for users and combines a cloud-based Job Planning, Scheduling & CRM back-office, Android mobile app running on rugged Samsung tablets and hard-wired or app based live tracking of vehicles and resources. Industry specific versions of the JobWatch system have been implemented by Sutton & East Surrey Water PLC, Sheffield Council, Smart Metering specialist Providor part of Lakehouse PLC, Hewer Facilities Management, The McDougall Group, Woods Building Maintenance and 2015 BBC Apprentice winner ImpraGas.
Replacing manual planning and paperwork, the BigChange system allows back-office users to plan, manage, schedule and track work effectively including planned maintenance and urgent reactive work. In the back-office, the system is enabling planners to respond faster to customers, intelligently allocating work orders based on real-time engineer availability, skills, live location and parts stock. This is significantly increasing productivity; minimising customer wait time and driving first time fix at competitive cost. Assets and equipment are fully-managed by the system, allowing service requirements to be achieved effectively and an integration with trading platforms such as Homeserve allows for seamless collaboration with service partners.
Mobile engineers and technicians benefit from an easy to use Android mobile app that replaces all paper job-cards, risk assessments and method statements. Technicians start their day by completing an electronic timesheet and vehicle check, before instantly accessing the day's work orders. Integrated sat-nav with live traffic ensures the best route is taken and customers receive proactive ETA (Estimated Time of Arrival) alerts by text and email. On arrival, the JobWatch app guides technicians step by step through job-specific workflows and captures essential information such as site-photos or test readings. Users can search for parts and add them instantly to the job. Proof-of-service and customer signature is captured and synced with the back-office instantly. The system generates invoices, custom reports, certificates, legal documents and fully branded job-cards that are automatically shared via a customer's booking portal or email. This paperless approach is saving BigChange customers hundreds of thousands of pieces of paper annually, along with the manual back-office administration that was required to manually process these documents.
The turn-key solution is transforming the way companies manage their entire customer experience such as companies fitting and maintaining Smart Meters nationwide on behalf of the major UK Power networks. For example, Customers are handled by a centralised call centre, who use automated workflows in the BigChange back-office to quickly ascertain the type of meter installation required and offer customers a selection of available appointments via the scheduler. This triggers automatic ordering of parts and materials required and technicians complete their jobs on the BigChange app. The system can plan and manage thousands of jobs per day.
The BigChange JobWatch system is also delivering superior value for Heating, Gas, Electric and Home Automation businesses such as ImpraGas, founded by 2015 BBC Apprentice Winner Joseph Valente and owned 50/50 with Lord Sugar. The company is on a mission to revolutionise the plumbing industry, using the BigChange platform to offer customers a faster, improved service. The technology is not only managing the entire operation all the way from quotation to invoice but is also ensuring consistent service quality and compliance. Gas Safety inspections are completed on the app and stored and shared electronically with customers and landlords. BigChange JobWatch is enabling service innovations such as real-time booking on the company's website as well as a fully-branded ImpraGas mobile booking and payments app.
Joseph Valente, Founder of ImpraGas commented:
"We chose the BigChange system because we have ambitious plans to grow the company as quickly as possible and needed a system to manage our workforce efficiently and help us provide an excellent service to our customers. BigChange has transformed the way we do business."
CONTACTS:
BigChange Apps: Martin Port, [email protected], tel +44 (0)113 457 1000
Reader enquiries: email:[email protected], phone +44 (0)113 457 1000, www.bigchange.com
About BigChange
BigChange by name, BigChange by nature! BigChange is an established force in mobile workforce management and telematics, offering a system that transforms the way companies manage their mobile operations.
JobWatch from BigChange is the paperless way to plan, manage, schedule and track a mobile workforce. This powerful all-in-one Mobile Workforce Management platform combines back office software, mobile apps, fleet management and real-time vehicle tracking in one simple to use system. Using JobWatch, customers can manage their entire operation, from quote all the way through to invoice.