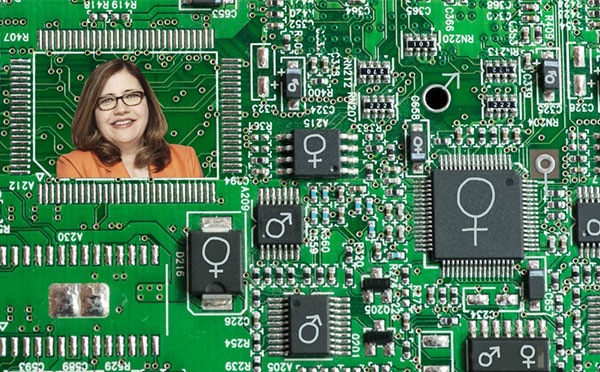 Meet my new ally in the fight for gender equality
Back
It's no secret: technology as an industry is predominantly male. As the CEO of a fast-growing technology business with ambitious aims to become the biggest mobile workforce management platform in the world, this is a serious problem.
If you want to build a product that is fit for the mass market, you have to have all demographics represented in your company. This means having a 50/50 split of men and women at all levels across all teams, because the world is half male, half female.
Try as we might, we are struggling to get there. Right now, BigChange is made up of 70% people who identify as male and 30% who identify as women. It's not enough that we are beating the national average; right now, less than one in five people working in tech in the UK are female. I want to reach 50/50 and I want to get there within the next few years.
This is why I am very glad to announce that we now have a new ally in the fight to get more women into technology.
Tracy Keogh has just been appointed as Chief People Officer by Great Hill Partners, our lead investor. She is a high-profile woman in technology, and has done an incredible job advocating for gender equality in the industry over the past 20 years. Most recently, she was Chief Human Resources Officer at HP Inc – she spent a decade there, and helped smooth the path for the Meg Whitman when she arrived as CEO in 2011.
Having a woman appointed to a senior role in the C-Suite is always a welcome, and all too rare, occurrence; a study last year by Mercer found that just 21% of senior roles around the world are currently held by women.
Tracy's mandate in this new role is to help both GHP and its portfolio companies – that's us – to harness the best talent and maximise engagement with our teams in order to reach our growth goals faster. In short, she's all about the people. That's handy. Just this week, we were reviewing our company objectives and one is to be "the world's home for outstanding talent in our industry"…
I am very much looking forward to meeting Tracy over the next few weeks. I want to welcome her to the family, and also pick her brains about how BigChange, as an employer, can become an even greater champion for women in technology.
Everyone knows that inclusive companies perform better but it's hard to know how to get there. We can't ask recruiters to focus on finding female candidates for our vacancies – that's just plain wrong. But we can demand that they provide an equal number of male and female candidates – even if that means they have to work a little harder.
I know Tracy will have many insights to share. She helped to make HP a destination for both women and other groups that are woefully underrepresented in technology. Beyond that, on an episode of the HRD Live podcast, which features interviews with heavy-hitters from HR across the world, she told the story of HP's head of marketing, who went out and challenged all the agencies and companies he worked with to field teams that had a 50/50 gender split and how she helped to apply that approach to other departments. I'd love to learn more about these tactics, and how we can replicate them at BigChange.
Women – and men – need to see more great role models like Tracy in positions of power and influence. That's why it's not just me shouting about our commitment to women in tech: our Marketing Director Amanda Port and Chief Operating Office Jo Godsmark will be spearheading a new initiative at BigChange to encourage more women into the industry and to launch schemes to level the playing field. I know they'll do a stellar job. Women usually do.