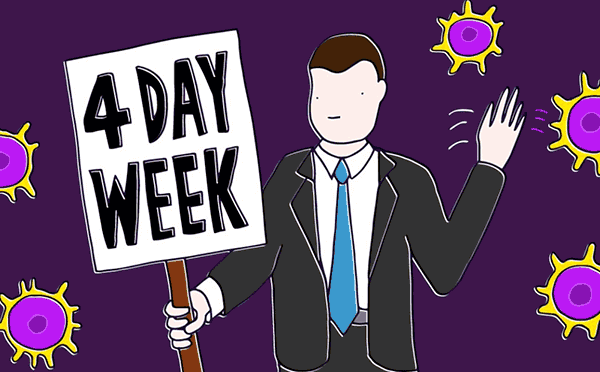 Pandemic won't shake my commitment to 4-day week
Back
Over the past week, there has been a lot of buzz around the benefits of the 4-day working week. Various politicians have called on the Chancellor to explore the option for the UK, as a way to generate more jobs.
At BigChange, we are way ahead of the curve. We are on course to move to a 4-day week in 2021. Right now, we're on a 4.5-day week through our Flexi Friday initiative, which allows my colleagues to take a half-day every Friday – or when it's convenient for them and their team. It's been hugely popular and we have seen no dip in productivity – if anything, quite the reverse. The happier your people are, the more productive they tend to be.
When Microsoft in Japan introduced a 4-day week last year, while still paying employees the same salary as for five days, it found that labour productivity rose by nearly 40 per cent.
This is a difficult time for Britain's workers. We know that the government's furlough scheme is coming to an end in a few months. The forecast is for mass redundancies, especially in the hardest-hit sectors such as aviation and hospitality. This cloud hangs over everyone, and could mean that people are desperate to hang on to a job – any job.
This is why it's so important for business leaders like me to stay committed to all the initiatives aimed at supporting and caring for our people, like the 4-day week. It would be easy to demand that employees work longer hours, citing the failing economy or industry pressures but that is just bad business.
I am still absolutely committed to introducing the 4-day week to BigChange. It's important to note that this extra day off each week will be discretional, to be decided by the team member and their manager. We aren't closing the office for a day a week, and if people feel that they need to work virtual on the fifth day to finish something urgent, then so be it. The aim is to encourage everyone at BigChange to work efficiently, and manage their time well, so that they can have a 4-day week without feeling overloaded or stressed, or like they don't have time to finish projects.
I believe that our approach to the 4-day week will not only help my team to find a great work/life balance, it will also allow us to employ new people, creating more jobs for the British economy. Giving people an extra day off, while paying a competitive salary, not only allows them to spend more time with family, it also gives them the chance to learn new skills.
This is also a time of increased stress and anxiety. We all need the time and space to take extra care of our mental health and wellbeing, and look out for friends, family, and our communities.
The current pandemic has shown many leaders – including me – that we don't need to be in an office to succeed, and that people perform really well when they are allowed to work flexibly. This will allow us to grow faster than ever. BigChange is an international player, working across multiple time zones. By allowing flexible working, we can start introducing night shifts, whereby UK colleagues can pick up calls from the US or further afield, all from home, knowing they have three days off ahead. We can also begin hiring people from deprived areas, instead of focusing on those within an easy commute to Leeds.
Where you live should not be a determinant of what kind of job you can secure.
It's great that some politicians are waking up to the opportunities that a four-day week could bring but I would also like to see some tangible support for those of us leading the way. If the Chancellor wants to help, he could support the training and up-skilling of new employees, for example, or offer tax breaks to the forward-thinking organisations that are investing in a 4-day week.
I really hope that calling for the short week is more than a political move to try and win over voters. We need to work together to make the 4-day working week a reality. I know that it is what the economy, business, and workers need. The time is now.