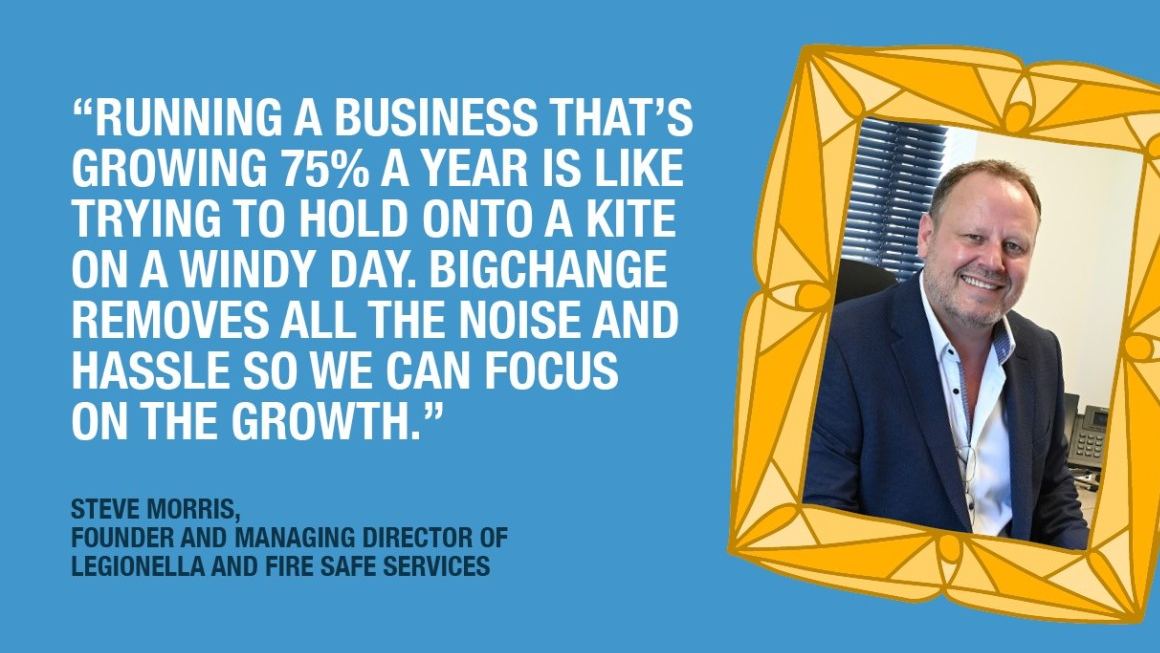 Running a business that's growing 75% a year is like trying to hold onto a kite on a windy day
Back
"Running a business that's growing 75% a year is like trying to hold onto a kite on a windy day. BigChange removes all the noise and hassle so we can focus on the growth."
I'm always impressed by how quickly and effectively entrepreneurs find solutions to all sorts of problems and challenges. They don't think: "I'll wait for someone else to sort that out." They roll up their sleeves and crack on.
Steve Morris, the founder and managing director of Legionella and Fire Safe Services, is one of these skilful problem solvers. He used to be a sales director and worked for Rentokil for nearly 20 years but when his division was acquired by Interserve in 2014, problems began to arise. "That was the first time in my career that I looked around and thought, 'I can do better than this'," he tells me. "At Interserve, all the staff were seen as numbers on a spreadsheet, and shareholder profits were the one and only priority.'"
In 2017, Steve took the plunge and started his own business. He wanted to create an organisation that truly valued its staff. "I wanted to reward the hard-working people in the business," he explains. "Financially, yes, but also to show that the organisation cared about them in other ways, such as days off on birthdays and care packages for people who were going through a hard time."
Steve sees himself as an accidental entrepreneur. "I never chose to go into business," he says. "The opportunity found me." He started Legionella Safe Services in partnership with Steve Broughton, founder of SafeGroup Services. The business helped organisations of all sorts – from local authorities to hotels and restaurants – to prevent and remove this harmful bacterium from their water supply. "Steve took a bet on me, and I launched the business in January," he says. "By December, we'd repaid the entire start-up investment and we haven't made a loss in any month since."
Another problem plaguing his industry was a lack of transparency. Steve faced that barrier head on. "We are the Ronseal of our sector," he says. "Even our name says exactly what we do. And we tend to retain our customers because our prices are competitive, and our standard of service cannot be beaten. We're known as the client pleasers!"
Steve's business evolved after the Grenfell tragedy in 2018. He saw a new problem that needed to be solved and added a fire safety services division to his business. Today, Legionella and Fire Safe Services is a one-stop shop for these two vital areas of compliance for the likes of Birmingham City Council, the biggest local authority in Europe.
Steve has been using BigChange since his first year in business. "Steve Broughton was already a customer and introduced me to BigChange," he explains. "It's been a godsend, driving efficiencies across the company. Running a business that's growing 75% a year is like trying to hold onto a kite on a windy day. BigChange removes all the noise and hassle so we can focus on the growth."
Legionella and Fire Safe Services now employs 51 people and turnover has soared from £800,000 in its first year to £5m today. The business environment has been challenging in recent years and, right now, the biggest barrier to growth is people. "Quality of labour and the cost of labour are my biggest worry," Steve says. "But my commitment to being a great employer has really helped us to attract and retain the best people in a tricky trading environment. And everyone who works here loves using BigChange."
The next big problem that Steve is setting out to solve relates to rising energy bills and the green agenda; he's working with local authorities to install hot water cylinders that can reduce bills by a minimum of 37%. "There's always another opportunity out there, another problem to solve, another way to help people," he says. "We want to become a market leader in all the sectors we serve, and we're well on the way there."