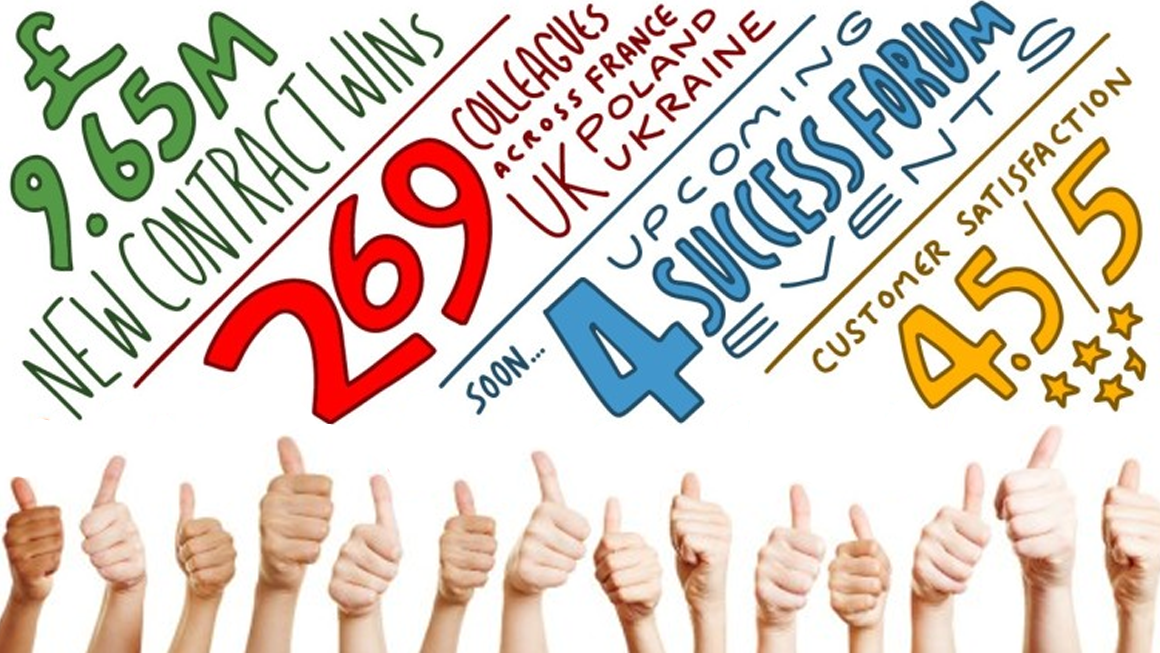 Strong start to 2023 for BigChange
Back
It's a tough trading environment out there for many business leaders. The UK has successfully dodged recession. There's a lot of uncertainty out there, which is having an impact on wider business confidence. Among BigChange customers, however, I'm glad to say that the mood is positive. They are continuing to grow, create jobs and innovate.
This is one of the best things about being part of a company like BigChange. While we are acutely mindful of the economic pressures, we can be confident our technology helps companies and leaders to thrive despite them.
This is why, over the past three months, we have continued to boast extraordinary growth, welcoming more new customers than ever before. We have become the trusted partner for ambitious businesses across the UK and beyond, helping them to navigate these testing economic times. Here are some of the highlights from Q1 2023.
The secret is out
New customers are joining us in droves. New contract wins in the first quarter of 2023 are up by a third on the previous year. We won £9.65m-worth in new contracts during the period, welcoming 120 new customers. We are now on course to hit a new customer acquisition record in 2023, forecasting 500 new customer wins across the year.
A technology for all
The BigChange platform is sector and size agnostic – whatever the business, we can help drive efficiencies and provide a springboard for growth. This has become even more evident this year as we welcome a diverse portfolio of customers to BigChange. From Mobile Mini, the UK's number one supplier of storage containers and site accommodation, to leading maintenance firms GEM Environmental and H20 Nationwide, to French electrical specialist J2 Group France, we give leaders across multiple industries the edge they need to grow in turbulent times.
Growing the team
We are now a team of 269 colleagues based in the UK, France, Poland, and Ukraine. This first-rate team is helping us to grow our footprint across the world and we are now a leading player in France, Cyprus, Australia, New Zealand the US, and Canada.
Staying relevant
As our customer portfolio grows, we continue to invest into our product. I'm delighted that Release 23.02, which landed in March, has been very well received. We are rolling out our new business intelligence dashboards across all our customers right now. The new and enhanced group job functionality is already adding value and we are looking forward to delivering a new overview page for group jobs. All of our high-priority product development ideas were gleaned directly from our customers, and we are proud that we can quickly and efficiently turn their dreams for the platform into reality.
Your success is our success
We only do well if our customers do well; it's a virtuous cycle. That's why we are so invested in customer success. Over the last three months, we have conducted three BigChange Success Forums, bringing customers together with our executive team, product managers and customer success team to check out our latest product roadmap. These interactive working sessions really help to drive value for our customers, and inform our next move.
To make sure that customers are taking advantage of the full complement of BigChange features, we have completed nine live customer webinars across topics ranging from our new business intelligence dashboards to the new-time-and-money-saving route optimiser.
Keeping in touch
Communication is everything to us here at BigChange, which is why we launched our revamped monthly newsletter in January. This fact-packed mail-out helps customers stay up-to-date on all the latest news around our product, events, and people.
The team here has completed over 250 face-to-face customer visits so far this year, and it has been brilliant to get out and about, bringing additional value to the BigChange community.
BigChange held its latest Success Forum at the Select Car Leasing Stadium in Reading a few weeks ago. A big thank you to all the amazing customers who joined us at the event – your feedback is so valuable. These events are a fantastic opportunity to hear all about BigChange's vision and plans for 2023 and meet us in person.
We're really looking forward to hosting you again over the coming months. Join the BigChange community and come to an event near you.
📆 11th May at Etihad Stadium, Manchester
📆 7th June at Villa Park Stadium, Birmingham
📆 5th July at BT Murrayfield Stadium, Edinburgh
Alternatively, we are hitting exhibitions all over the UK this year. In April, we'll be at HVAC Live, the Fire Safety Event, and ELEXSHOW, so come and visit our stand if you're attending any of these.
I'm really proud of everything we have achieved so far this year and the whole team is focused on maintaining this incredible growth trajectory across 2023. As we grow, we never lose sight of the customer – our service levels remain best in class. This is exemplified by the performance of our RoadCrew Customer Service team, which retains a Customer Satisfaction score of 4.5 out of 5! There are many challenges out there right now but we pride ourselves on championing the entrepreneur. You can read a bit more about the impact we have made in our customers' lives here: https://www.bigchange.com/platform/case-studies/
Here's to a bumper Q2 and the best year yet for BigChange and our customers.