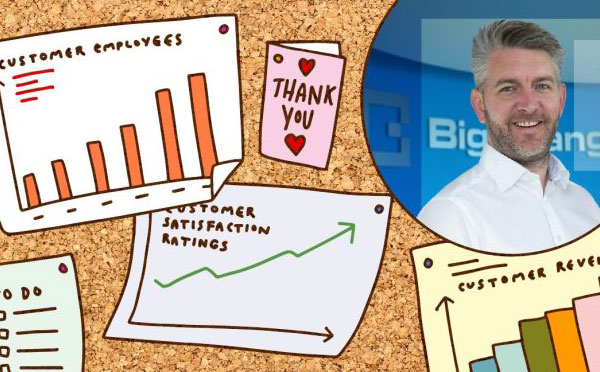 Your customer's success is everything
Back
What can you do today to help your customer be more successful tomorrow? Ian Burgess, BigChange's Chief Customer Officer, explains what you need to know.
I have spent my whole life building businesses and my obsession with my customers has been the constant that unites all my ventures, whether it's a bakery or a software company.
But when it comes to going the extra mile for customers, it's easy to talk the talk and far harder to walk the walk. A customer-centric approach takes investment, focus and a relentless determination to keep improving.
This is why, at BigChange, we made sure that as the business grew, we kept revisiting the concept of customer success. Regular readers of this blog will have seen some of my posts on the topic. We were delighted when Ian Burgess, who has spent his whole career helping companies better support their customers, joined the team as our BigChange Chief Customer Officer in September.
So, for any business owners out there who want to build businesses with customer success at their heart, I've asked Ian to share some of the insights we have learned on our journey. I hope that you find them useful, and that you and your customers will thrive!
Over to Ian!
Q: What does customer success mean?
In a traditional account management structure, a customer will call in with an issue, the team jumps to sort it out, and it can be chaotic. Customer success is about being proactive, not reactive. You understand your customer so well that you can anticipate their needs.
Q: How does a customer success focus change the structure of the business?
In many businesses, the hierarchy (if laid flat) looks like a conveyor belt. One team passes the order to another and so on. Service teams usually sit right at the end of that conveyor belt.
When you put customer success at the heart of the organisation, it becomes a pivot around which all departments turn.
In BigChange, this means that customer success engages with all teams across the customer journey to ensure they know all about the latest developments that can help customers thrive.
Q: How do you establish customer success processes?
Customer success is an ethos as well as a function. You don't just introduce a customer success team; you need to get buy-in from the whole business. We created a customer success platform; an aggregation layer on top of the BigChange technology.
We look at things like: when was the last time we engaged with the customer? How are they using the product? What might they like some help with?
Q: Are there any pitfalls to be aware of?
Your customers are busy people so you must only contact them when you can genuinely add value.
There's no point calling up and saying, 'It's raining' – they'll know that already. But if you can tell them it's going to rain tomorrow, you give them insight they can act upon.
This is also why we recommend you have a dedicated customer success team – one point of contact for these proactive approaches.
You don't want people from lots of different teams calling up with different propositions.
Q: What impact did this approach have on BigChange and its customers?
The more we help our customers to get the maximum value out of our product, the quicker they will grow. And the more value they get from the platform, the more efficiencies and benefits they will experience, which also breeds loyalty to BigChange.
That's really powerful for us, as you can see in our Net Promoter Score. As we grow, it's very important to everyone in the business that we stay human.
We will never be a faceless corporation. We are always at the end of the phone, always looking to help. It's a real differentiator for us, especially at a time when other companies in the space charge extra for this kind of service.
For us, it is fundamental to our core offering.